Licensees/Agents
To date, the names of only 47 companies, other than needle manufacturers, are found inscribed or stamped on Avery style needle cases. Of these 35 were located in London, 4 in New York, 4 in Birmingham, 1 in Scarborough, 1 in Glasgow, 1 in Paris and 1 unknown,. Only 9 had more than four designs with their name: Baggallays, Westall & Spence (18), W. Whiteley (13), Copestake, Moore, Crampton & Co (11), Hutton & Co (11), Cook-Son & Co (9), Pratt & Farmer (8), Cormack Bros (7), Mappin Bros (7) and Perry & Co (6). Most of the needle case designs licensed to these firms were designed or patented by one of three companies: W. Avery & Son (51), Buncher & Haseler (8) and James William Lewis (4).
How do we know these companies were licensees or agents?
The earliest patent registered by Avery was # 2007, recorded on July 9, 1867. This patent contained a drawing and description for a counter box to be used to sell packets of needles in retail establishments. Several examples have been found, which proves they were in fact manufactured, with the words "Wm. Avery & Son's Quiver Needles in Penny Packets Agents in London Baggallays, Westall & Spence". Additionally, there are at least two needle case designs with the word "licensee" stamped or engraved next to the company name: Athena Golden Needle Case and the Stella Golden Needle Case. Although we often find flat-style needle cases with the word "patent" or "patented" on them, this does not necessarily mean the needle case was patented by the company whose name appears next to it, it only signifies that these needle cases were in fact patented by someone. Only by examining the design/patent documents do we know who actually registered an item.
Special Business Relationships
Avery's designs can be found with 36 of the 47 licensees/agents names, 26 had exclusive relationships with Avery (only needle cases designed/patented by Avery appear with these company names). The other designers/patentees licensed their designs to only a handful of businesses. Buncher & Haseler's designs can only be found with Avery's name or the name of one of 10 licensees and none of their designs have ever been found with a needle manufacturer's name. It is interesting to note that all of Buncher's designs were only licensed to firms that also had licenses with Avery. Perhaps Buncher designed his needle cases specifically for Avery and in turn Avery suggested to whom they should be licensed. On the other hand, this was not the case with Lewis's designs which were licensed to 2 needle manufacturers: James and Milward; as well as 3 other firms: Perry, Roberts and Sharpe.
Only 56 of Avery's 122 registered designs were licensed to these companies and Avery's quadruple was by far the most popular item. It can be found with 24 different licensee names as well as Avery's name and the names of 7 needle manufacturers. The exterior decoration on this needle case was often customized depending upon who the licensee was. For example, the Copestake, Moore, Crampton & Co. version included the Minerva head, the symbol of the company, along with the name "Minerva Lever Casket". The Cook-Son & Co version included the bent arm on wreath trademark used by their firm. Demi-Quad needle cases were also customized for major licensees such as the "Cleopatra" for Pratt & Farmer and the "Minerva Needle Case" for Copestake, again with the Minerva head, and the "Nilsson" for Ellis, Howell & Co. The most common figural needle cases that Avery licensed to others were the first three figural items he registered: "Butterfly", "Scallop Shell" and "Butterfly Box - Oval Tub". Initially Avery also licensed some of his early designs to needle manufacturers, however that pretty much stopped by the end of 1872 as most of Avery's creations after that year only contained his name or the name of licensees who were not needle manufacturers.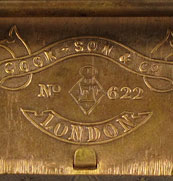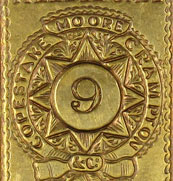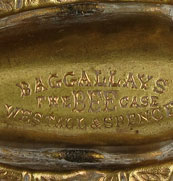 Business Types
If we look at the types of business that most often licensed needle cases we'll see some interesting patterns. 35 of the 47 were located in London and 4 were located in New York. The business types have been identified for 44 of the 47 businesses: 15 were department stores,warehousemen, drapers or fancy goods and general merchandise sellers, 8 were cutlers, 5 were dressing case manufacturers, 5 were jewelers or jewelery merchants, 4 stationers, 3 were dealers of needles, 1 was a straw hat manufacturer, 1 was a manufacturer of reel cotton, 1 was a pen manufacturer, 1 was an ironmonger and the occupations of the other 3 are unknown. Many of these businesses were related to the needle industry as drapers and dressing case makers would all need needles to do their jobs. And why would Avery license his needle cases to these companies? The draper, clothier and warehousemen Copestake, Moore, Crampton & Co and Cook-Son & Co as well as the Whiteley's Department Store had huge operations in London and marketed extensively throughout the UK. They provided Avery with just the type of resources that could get his product distributed across the country. Just think of fancy brass needle cases with these company names filled with Avery's needles. Only through these companies could Avery reach such a wide audience. In addition, Perry & Co was well known for its wholesale catalogue which sold needle cases as part of their fancy goods product line. Most of Lewis's designs were sold through Perry's catalogue as well as at least 6 designs created by Avery.
What the data tells us
Avery licensed some of his early designs to needle manufacturers in Redditch, perhaps hoping to profit by selling needle cases in addition to needles. However, once his competitors had their names on Avery's beautiful needle cases surely they placed their own needles inside, not Avery's. As a small needle manufacturer, Avery needed a way to reach a broader audience so he could compete with his larger rivals, therefore around 1872 he stopped this practice. Licensing needle cases to large organizations in London and New York who had a broad market and weren't competitors was a win-win for both parties. The licensees were able to place their names on a beautiful item so their customers would remember them and Avery was able to fill them with his needles, the result being increased sales of Avery needles.
NOTE: Only needle cases known to exist were include in the analysis of licensees/agents (patented only items were not included). See Licensee/Agent Data and W. Avery & Son Data for details.
Company List
Alexander Arkell – London

Letts, Son & Co – London

Edwin Luke - Brixton, London

Mappin Bros. (Mappin & Webb) – London

Carliles, Pittman & Co - London

Melliship & Harris – Westbourne Grove, London

Charles, Reynolds & Co - London

R. Moffat & Co – New York

Cochran, McLean & Co – New York

G. & J. Morton (J. & G. Morton) – Cheapside, London

G. Nazer – Royal Exchange, London

T. Pellett – London

D. Nicholson & Co. – London

Cormack Brothers – London

Pratt & Farmer - New York

Edward Cox – Westbourne Grove, London

R. J. Roberts – New York

D. & M. – Birmingham

Sydney J. Saunders – London

Ellis, Howell & Co – London

Thomas Savage – London

D. H. Evans & Co – London

Seaman, Little & Co - Kensington

Fisher – London

J. & T. Forgie – Glasgow

Albert Sharpe – London

G. C. H. & Co – Birmingham

Stacy – London

J. W. Shutter- 133 Bisop Gate St City (London)

Vyse, Son & Co – London

G. R. & Co, location unknown

W. Walker – London

Gay and Son – London

Waters & Woodhouse – Scarborough

Grands Magasins du Louvre - Paris

Hirsch & Stern, Birmingham

B. B. Wells - London

R. Holt French Court – Crystal Palace, London

W. Whiteley – Westbourne Grove, London

Hutton & Co – London

Johnson Hatchman & Co - London

G. H. Johnstone & Co - Birmingham