History of a Needle by Edgar R. S. Bartleet
The following slides are the individual pages from Mr. Bartleet's book which was written sometime in 1890's. Click on each slide to see a larger version of it or click on the PDF link below to download the entire booklet. A special thank you goes to Raymond McLaren for provding this original document to the authors of this wesite.
Left: cover. Right: page 1.
Left: page 2-3. Right: page 4-5.
Left: page 6-7. Right: page 8-9.
Left: page 10-11. Right: page 12-13.
Left: page 14-15. Right: page 16-17.
Left: page 18-19. Right: page 20-21.
Left: page 22-23. Right: page 24-25.
Left: page 26-27. Right: page 28-29.
Left: page 30-31. Right: page 32-33.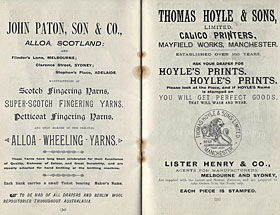 Left: page 34-35.