Welcome
This website was created to share all of the research that has been undertaken in the last few years regarding Avery needle cases. Although historical research of this type is not an exact science, it should be based on evidence and not assumptions. Information provided by previous authors should be reviewed and their sources examined to see if the same conclusions can be drawn.
A thorough search through all available sources was undertaken for this website and the results were evaluated, both what was found and what was not found. All of the information included here has been meticulously researched and thoroughly analyzed and any assumptions are clearly identified as such.
When new information is discovered in the future, this website will be update. If you have information you'd like to share, please contact us.
W. Avery & Son
Avery style needle cases got their name from the company W. Avery & Son. This firm was a small needle manufacturer during the Victorian Era from Headless Cross, a little village on the southwest side of Redditch, England. Redditch is located 15 miles south of Birmingham, the English city recognized as the center of the Industrial Revolution. In the 19th century the Redditch area produced the majority of the world's needles.
W. Avery & Son is best known for their figural brass needle cases which were created by the company between 1868 and 1897. Since they produced the majority of these items, collectors refer to all brass needle cases manufactured during this time period as "Averys". Today they are highly collectable and are usually sold on auction websites such as eBay or by antique dealers online, in shops or at antique shows. Most needle cases produced for the firm have W. Avery & Son Redditch engraved or stamped on the case as well as a patent or design registration mark.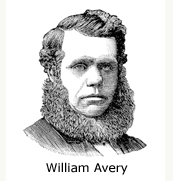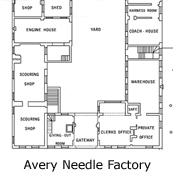 Definition - What makes something an Avery style needle case?
Not every antique brass box is a needle case and not every needle case in an Avery. After gathering input from other collectors, it was determined that an item must meet specific criteria in order to be classified as an Avery style needle case. At first it seemed obvious that only brass needle cases marked W. Avery & Son should be classified as Averys. However, we now know Mr. Avery frequently made licensing arrangements with other firms allowing them to place their name on his designs. Also, during the time period in which Avery was making needle cases, other firms patented or registered their own unique needle case designs.
After much thought it was decided that any item meeting the first criteria below would automatically be considered an Avery needle case. In addition items that do not meet the first criteria will be considered Avery style needle cases if they meet all three of the other criteria (items 2-4). Of course these criteria are subject to modification in the event that new information is uncovered in the future. If you have a needle case that is not recorded on the master list on this website that you think should be included, please contact us.
Any small decorated metal receptacle, most often made of stamped brass, marked W. Avery & Son (this would include the tin sheet Metallic Casket and Metallic Pin Box and also nickel-silver or nickel-plated items but would exclude paper needle cases/wrappers and undecorated metal items such as the Counter Box);

OR


Must be made of brass or occasionally made of nickel-silver, nickel-plating or very rarely silver, gold or tin;


Must contain highly complex detailed design or decoration that is stamped or engraved onto sheet metal. Occasionally part of decoration may be made of a solid cast metal piece;


Must meet one of the following additional criteria:



Contain the name of one of 68 English, Scottish or American needle manufacturers/licensees/agents of manufacturers or companies related to the needle industry (e.g.: draper, lace maker, warehouseman, etc.) who are listed as such in area trade directories between 1867-1897; (Note: the company name must be stamped or engraved onto a metal portion of the needle case. If the needle case contains paper packets of needles which contain a company name, this only proves the company manufactured the needles not necessarily the needle case. Paper packets of needles are easily transferable and may have been inserted into the needle case at a much later date, and therefore the company name on them does not apply to the needle case);

OR


A patent or design representation registered between 1867-1897 has been located at the UK National Archives in Kew or the British Library's Business and Intellectual Property Centre that states the item is a needle or pin case or something similar;

OR


Contain special designated areas, often marked 6, 7, 8 or 9, to hold needle packets of varying sizes or have an inscription that indicates the item is a needle or pin case.