---
Summary of the World War I
World War I began as a local European war between Austria-Hungary and Serbia on July 28, 1914 and developed into a global conflict involving 32 nations. The immediate cause of the war was the assassination in Sarajevo, Bosnia of Archduke Franz Ferdinard, heir to the Austrian and Hungarian thrones, by a Serb nationalist. The fundamental causes, however, were rooted deeply in the European history of the previous century, particularly in the political and economic polices that prevailed on the Continent after 1871, the year that marked the emergence of Germany as a great world power. The underlying causes of World War I were the spirit of intense nationalism that permeated Europe throughout the 19th and into the 20th Century and the political and economic rivalry among nations.
Twenty eight nations known as the Allies, included Great Britain, France, Russia, Italy and the United States, opposed the coalition known as the Central Powers, consisting of Germany, Austria-Hungary, Turkey and Bulgaria. The U. S. did not enter the war until April 6, 1917. The war ended with the signing of the armistice on November 11, 1918. It took more than 37 million lives at a cost of about $186 billion. Despite worldwide hopes that the settlement arrived at after the war would restore world peace on a permanent basis, World War I actually provided the basis for an even more devastating conflict. The peace treaties that emerged were inadequately enforced leading to the resurgence of militarism and aggressive nationalism in Germany and to social disorder throughout much of Europe.
The statistics below show the impact of the war in combatant lives from the areas in which Coulthart families and their descendants lived.
What follows are the stories of several ancestors who served in this conflict.
---
Sydney John Coltheart (1892-19??)
A.I.F., Australia
Sydney was born in Derby, Tasmania in 1892. He was the son of John Coltheart and Lizzie Bloomfiled. Syd joined the A.I.F. early in WWI and was badly wounded at Gallipoli, which resulted in one of his legs being much shorted than the other. The difference of about 75 mm was corrected by an extra thick sole on one of the specially made boots he had to wear the rest of his life. Although handicapped, he returned Australia and worked for some time in the mining industry. He married Coralie Clay in 1923 and they had two children: Betty (1924) and Velma (1929). Sydney was the grandson of John Colthart (1833-1937) who emigrated from Scotland to Tasmania in 1855.
---
George Thomas Coulthard (1893-1960)
Private, U.S. Army
M.G. Company, 312th Infantry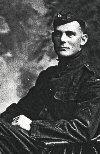 George was born in Caledonia, New York on October 10, 1893. He was the son of Thomas Coulthard and Mary Bradburn. After graduating from high school, he continued his education and became a schoolteacher. At age 24 he enlisted in the army and served during WWI.
After his discharge on May 31, 1919, he returned to the Clifton, New York area where he continued his career as a teacher. He married Elsie Cooper and they had one child: Thomas (1925). Elsie passed away five years later and George married his second wife Anna Curtis in 1937. George lived in the Clifton area for 43 years and passed away in 1960 in Dover, New Jersey. George was a descendant of Thomas Coulthard (1859-1944) a railroad clerk who immigrated to Caledonia, New York from England prior to 1881. The origins of this Coulthard family can be found near Bolton in Cumberland County England.
---
Elmer I. Coulthart (1896-1980)
U.S. Army
Elmer was born in 1896 in Auburn, North Dakota. He was the son of Walter Coulthart and Pauline Reichelt. During the late 1910's he enlisted in the army and served during WWI.
After his discharge, Elmer returned to the Grafton area and married Ida Johnson in 1922. They had two children: Donna (1927) and Glenn (1930). Elmer worked as a butcher in the Grafton area and passed away there in 1980. He was the grandson of Walter Coulthart (1820-1892) of Grafton, North Dakota.
---
Frank Harkness Jr. (1888-1972)
Private First Class, U.S. Army
20th Engineers, 46th Company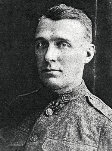 Frank was born in 1888 on a farm near Randolph, Minnesota. He was the son of Frank Harkness Sr. and Barbara Jean Hunter. Frank enlisted in February 1918 and was sent by troop train to Camp Dodge, Iowa. At first he was assigned to the infantry but was soon transferred to the 43rd Engineers at the American University in Washington D.C. where he spent several months. In May when his ship left New York City for France he looked back at the Statue of Liberty and wondered when and if he would ever return home.
Frank landed at Brest, France during the last week in May 1918. The men were transported to Paris where Frank took part in a parade since he played the French horn in the army band. Frank was stationed near Epinal, Mulhouse and Bal on' Alsace where he supervised several soldiers at a sawmill. The men sawed logs into lumber during the daylight hours and then Frank drove the lumber at night to the front lines where it was needed. He could not use the truck's headlights so he had to guess where the mountain road was, which at spots wasn't far from the German line and their soldiers. After the war came to an end but before returning home, Frank went to the front lines where the fighting had been going on. He saw the insanity of it all and wished he hadn't. He left France on the German warship "Laviathon" for home. The ship had been captured during the war and was now being used by the U.S. as a troop ship to return service men to the states. It landed in Newport News, Virginia and Frank took the train home to Minnesota.
After the war Frank remained in the Northfield area and married Sarah Simpson in 1920. They settled on a farm near Randolph. Frank and Sarah had three children: James (1924-1924), Mary Barbara (1927) and Roberta (1929). Frank passed away at age 84 in 1972 in an ambulance en route to the hospital in Faribault, Minnesota. Frank was the grandson of Jane Coulthart - Mrs. William Hunter (1812-1892) of Northfield, Minnesota and Christiana Coulthart - Mrs. Francis Harkness (1816-1876) of Wisconsin Rapids, Wisconsin.
---
Ward Milton Hunter (1895-1969)
Corporal, U.S. Army
Ward was born in 1895 in Sciota Township, Minnesota. He was the son of Walter Hunter and Phoebe Coulthart. During WWI he joined the army and served as a corporal.
Ward married Gertrude Boltz and they had seven children: Norman (1924), Catherine (1926), John (1927), Raymond (1930), Lavonne (1933), Jerry (1942) and Janice (1945). He passed way in 1969 in Spokane, Washington. Ward was the grandson of Jane Coulthart - Mrs. William Hunter (1812-1892) of Northfield, Minnesota and William Coulthart (1833-1916) of Waseca, Minnesota and the great grandson of William Coulthart (1800-1880) of Cannamore, Ontario.