Terry in Scotland.
(Don't miss the bottom of this page.)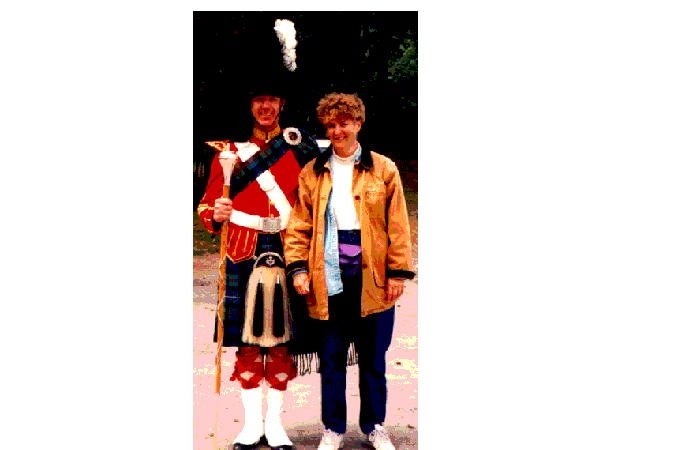 During my trip to Scotland in 1994, I attended the Highland Games in Ballater where this photo was taken. Scotland is a beautiful country and the people are very friendly. However, the weather leaves a 'wee' bit to be desired unless of course you are in to rain. I must admit that the rains make the ground a lush green and the mists give everything a romantic look.
The most beautiful spot in Scotland is the Glenfinnen Monument. Being there makes you want to become a Jacobit and follow Bonnie Prince Charlie!!
My Great-Great-Great-Grandfather, William Coulthart (1800-1880), was born in Cummertrees, Scotland and died in Finch Township, Ontario. His son, William (1833-1916), moved to Minnesota in 1864 and fought in the Civil War near Nashville, TN. The family settled in Waseca, Minnesota. His daughter, Henrietta (1862-1919), married Thomas Hughes in 1880 and they lived in Mankato, Minnesota where my grandfather, Edwin Darwin Hughes (1904-), was born.
Terry's favorite Scottish sites on the Net
---
Page last updated 3/30/96.