Honor Role - Cold War: 1946-2000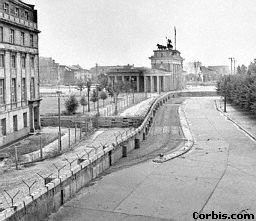 Click on one of the items below for a summary of the war or a short biography about one of our Coulthart ancestors/descendants who served during this conflict.
---
Cold War to Present
The Cold War was a post-1945 struggle between the United States and its allies and the group of nations led by the Soviet Union. Direct military conflict did not occur between the two superpowers, but intense economic and diplomatic struggles erupted. Different interests led to mutual suspicion and hostility in an escalating ideological rivalry
After a century of friendship, Americans and Russians quarreled over Asian questions in the 1890's and became enemies in 1917 when the Communists seized power, established the Soviet Union, and declared ideological war on the capitalist nations of the West. The United States intervened in the Soviet Union, sending some 10,000 troops between 1918 and 1920, and then refused to recognize the new state until 1933. The two countries fought against Germany during World War II, but this alliance began to dissolve in 1944-1945 when the Russians leader, Stalin, seeking Soviet security, used the Red Army to control much of Eastern Europe. U.S. President Truman opposed Stalin's policy and moved to unite Europe under American leadership. Mistrust grew as both sides broke wartime agreements. Stalin failed to honor pledges to hold free elections in Eastern Europe. Truman refused to honor promises to send reparations from the defeated Germany to help rebuild the war-devastated Soviet Union. In 1947 a journalist popularized the term cold war in a book by the same name. Several years later, in Congress there was a series of highly publicized inquires into pro-Communist activity lead by Senator McCarthy. The cold war widened in the early 1960's with the building of the Berlin Wall and the Cuban Missile Crisis. By the 1970's the superpowers were weakened by the costly arms race which resulted in internal economic difficulties for both nations. The postwar economic superiority of the United States was also challenged by Japan and West Germany.
In 1985 Gorbachev, representing a new generation of Soviet leaders, came to power in the USSR. He and President Reagan agreed to cut back the superpowers presence in Europe and to moderate ideological competition. The Cold War ended in the late 1980's early 1990's as the newly freed East European nations elected non-Communist governments and the two Germany's were reunited.
Although the Cold War has ended, a new age of military actions has begun. In the last decade of the 20th century two of these conflicts have been the Gulf War in 1991 and the Bosnian Crisis in 1995/96. What follows are the stories of several family members who served during the Cold War and its aftermath.
Most of the above summary is from Microsoft's Encarta Encyclopedia.
Back to Table of Contents
---
Tom Colthart U.S. Air Force
Return to top of page
---
Charles John Coulthart Jr. (1937-present) U.S. Marine Corp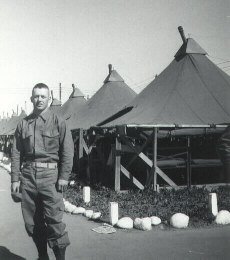 Chuck was born in Racine, Wisconsin in 1937. He is the son of Charles Coulthart Sr. and Marion Todish. In September 1956 at age 19, Chuck enlisted in the U.S. Marine Corp. He served in the Corp until February 1957 when he received a hardship discharge due to his mother's fatal illness.
Chuck married JoAnne Jenson in 1961 and they have two children: Timothy (1962) and Craig (1967). Chuck worked as a high school athletic director. He retired in the late 1990's and currently lives in Whitewater, Wisconsin. Chuck is the great-great grandson of Walter Coulthart (1820-1892) of Grafton, North Dakota and the great-grandson of John Sidenham Coulthart (1854-923) of Wisconsin Rapids, Wisconsin.
Return to top of page
---
Brett Hughes (1963-present) U. S. Navy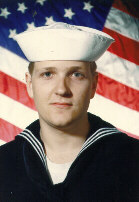 Brett Hughes was born in 1963 in Minneapolis, Minnesota. He is the son of James Hughes and Mary Ann Cressel. Shortly after high school Brett joined the navy. He completed his initial training at Great Lakes Navy Base in North Chicago, Illinois. He was later assigned to a ship based in San Diego, California where he served for a number of years.
After his discharge, Brett returned to the Minneapolis area and became a systems analyst at Honeywell Inc. Brett is a descendant of William Coulthart (1833-1916) of Waseca, Minnesota and William Coulthart (1800-1880) of Cannamore, Ontario.
Return to top of page
---
Charles James Meinke (1952-present) U. S. Army
Chuck was born in 1952 in Park Rapids, Minnesota. He is the son of John Meinke and Patricia Hughes. After Chuck graduated from high school in 1970, he attended the University of Minnesota.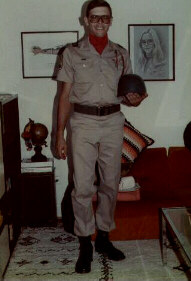 In January 1972 he enlisted in the army prior to being drafted so he could select his service destination. After basic training at Ft. Ord and Advanced Individual Training at Ft. Sill, Oklahoma, Chuck was assigned to the 4th Field Artillery Detachment in Werl, Germany located near the city of Dortmund. The mission of his unit was to support the Belgian Army, a NATO Ally, in stopping an invasion of Western Europe by the forces of the Warsaw Pact should conventional weapons fail. Initially he was assigned as an eight-inch howitzer atomic projectile assembler but within a year was reassigned to a job where he was responsible for communication of nuclear release authorizations from the President of the United States in times of war. In 1973 he met a German girl, Petra Hildebrandt, and they were married a year later. Chuck re-enlisted in 1974 and remained in Germany until 1977 when the family returned to the U.S. and was assigned to Ft. Benning in Columbus, Georgia. Chuck received an honorable discharge in November 1979 and returned to Minnesota where he studied International Business at the University of Minnesota.
Chuck and Petra have two children: Melissa (1978) and Jason (1986). They live in Apple Valley, Minnesota where Chuck works as a Security Analyst for Honeywell Inc. Chuck is a descendant of William Coulthart (1833-1916) of Waseca, MN and William Coulthart (1800-1880) of Cannamore, Ontario.
Return to top of page
---
Drake Fritz Meinke (1963-present) U. S. Army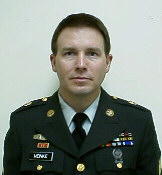 Drake was born in 1963 in Willmar, Minnesota. He is the son of John Meinke and Patricia Hughes. Drake enlisted in the army after graduating from high school in 1982 and completed his basic and advanced training at Ft. Sill, Oklahoma. He made the service his career and was assigned to the following duty stations during his seventeen years with the Army: Ft. Sill, Oklahoma; Geilenkirchen, Germany; Romulus, New York; Darmstadt, Germany and Wiesbaden, Germany. He currently serves as an Intelligence Sergeant with the 85th Division Army Reserve in Arlington Heights, Illinois. During his tenure in the service, Drake has received numerous awards including the Meritorious Service Medal, Accommodation Medal and several Achievement Medals.
While stationed in Germany, Drake was assigned for six years to the 85th Field Artillery Detachment in Geilenkirken. The mission of the 85th was to provide custodial support to the German Air Force and maintain control of Pershing Missile nuclear warheads. His later assignments in Germany involved logistic and intelligence support. At the beginning of the Bosnian Conflict in 1995/96, Drake was assigned to Kaposvar, Hungary for 8 months. His unit was responsible for the logistic movement of U.S. Military Forces into Bosnia from Germany in support of "Operation Joint Endeavor".
Drake married Vicki Negen in 1984 and they have three children: Nicole (1983), Christopher (1985) and Monica (1992). Drake is a descendant of William Coulthart (1833-1916) of Waseca, Minnesota and William Coulthart (1800-1880) of Cannamore, Ontario.
Return to top of page
---
Rachel Prigge (1980-present) Airman E-2, U.S. Air Force
Rachel Coulthart was born in Grafton, North Dakota in 1980. She is the daughter of Larry Coulthart and Frances Boulduc. Rachel married Ron Prigge and the couple currently lives in Yokota Air Base in Japan where she is an Awards and Decorations Specialist. Rachel is the great-great granddaughter of Walter Coulthart (1820-1892) of Grafton, North Dakota.
Return to top of page
---
Bibliography
Microsoft Encarta Encyclopedia - Cold War history