134th Infantry Regiment

"All Hell Can't Stop Us"
Pfc. George J. Wagnis
60th Engineers Combat Battalion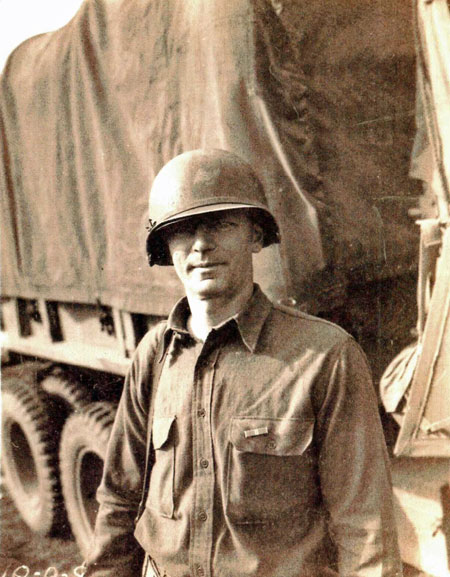 Bronze Star Medal Citation
Private First Class George J. Wagnis, 32796926, Corps of Engineers, United States Army, for heroic service in connection with military operations against an enemy of the United States in the vicinity of Ajoncourt, France, 10 October 1944. Private Wagnis was fusing antitank mines in a night mine laying operation when an explosion occurred which ignited two truckloads of mines and ammunition stacked nearby. The entire area became on inferno of exploding mines and small arms ammunition, burning vehicles and falling enemy artillery, and numerous casualties were caused. Despite the fact that he received painful wounds in the back and shoulders, Private Wagnis immediately went to the aid of his wounded comrades, pulling two soldiers from the Moselle River and administering first aid to other wounded men before allowing himself to be evacuated. Private Wagnis' unselfish and heroic actions, and his loyalty to his comrades reflect credit upon his character as a soldier. Entered military service from New York.
General Orders 47, Headquarters 35th Infantry Division, 25 October 1944
Read more about the 60th Engineers Ajoncourt mine explosion disaster.
Thanks to Pam Urso, Pfc. Wagnis' daughter, for these photos.