134th Infantry Regiment

"All Hell Can't Stop Us"
1st Lieutenant Peter C. McBean
Cannon Company - Executive Officer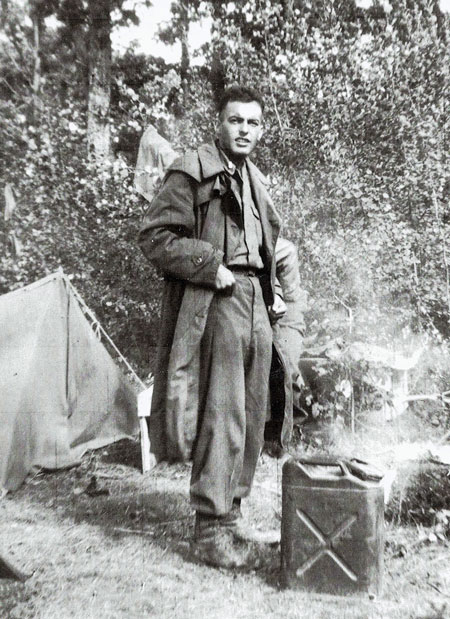 1st Lt. Peter C. McBean, then 23 years of age, taken somewhere in France

Bronze Star Medal Citation
First Lieutenant Peter C. McBean, O1308988, Infantry, United States Army, for heroic service in connection with military operations against an enemy of the United States in the vicinity of * * *, Germany on 30 March 1945. When Cannon Company, 134th Infantry, was ordered to cover the combat team artillery, Lieutenant McBean, Company Executive Officer, together with an enlisted man voluntarily went forward to survey the area for this operation, plotting gun positions and placing orienting markers. Despite the fact that the area was subjected to three enemy barrages, his tenacity of purpose and disregard for personal safety made possible the successful accomplishment of the mission. Entered military service from New York.
General Orders Number 31, Headquarters 35th Infantry Division, 8 May 1945

Purple Heart Medal
Wounded in Action 31 March 1945
General Orders Number 28, Headquarters 35th Infantry Division, 24 April 1945
Thanks to Lt. McBean's son, Bill McBean, for the photograph of his father. He is interested in contacting any soldier who served with the Canon Company, 134th Infantry Regiment. He is writing a book about his father's war years, and family life with him thereafter. His email address is acclaiminvestigations@gmail.com