134th Infantry Regiment

"All Hell Can't Stop Us"
Capt. Joseph Brigandi
Company L - Commanding Officer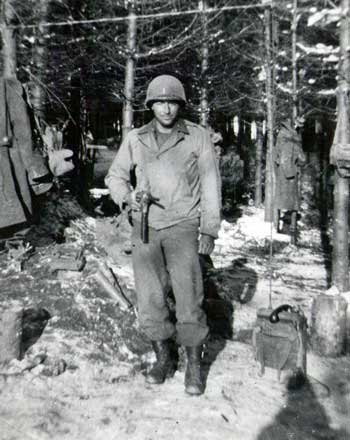 Joseph Brigandi served with the 10th Mountain Division in Colorado, before joining forces in Europe. He participated in the Battle of the Bulge. He was awarded the Combat Infantryman Badge, two Purple Hearts, a Silver Star, three Legion of Merits and French Croix de Guerre. He held simultaneous qualifications in ski borne and jungle warfare. He also served in the Korean and Vietnam wars. He retired as the most highly decorated Colonel in the Army Finance Corps.


Bronze Star Medal
Captain Joseph Brigandi, O540530, Infantry, United States Army, for heroic service in connection with military operations against an enemy of the United States near Buer, Germany on 30 March 1945.

When the forward movement of his unit was halted by intense enemy fire of all types at the approaches to Buer, Captain Brigandi, commanding Company L, 134th Infantry, moved among his troops, reorganized them and moved out at their head, so inspiring his men by his personal bravery and leadership that they moved relentlessly forward to secure the objective, capturing three enemy machine guns, four field guns and their crews, and a total of sixty-three other prisoners.

Captain Brigandi's aggressive actions under fire are in accord with military tradition.

Entered military service from New York.

General Orders 30, Headquarters 35th Infantry Division, 3 May 1945

Purple Heart Medal with Oak Leaf Cluster
Injured in Action - November 13, 1944 and January 17, 1945
General Orders 49, June 25, 1944 and General Orders 52. July 13, 1945, Headquarters 35th Infantry Division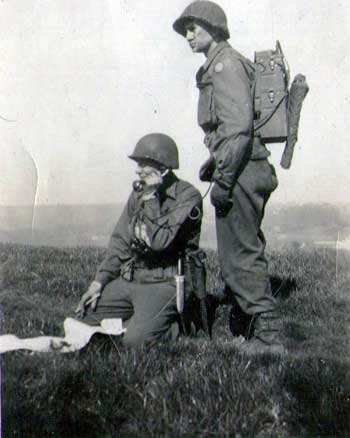 Capt. Joseph Brigandi kneeling with radio, soldier on right unidentified - St. Lo, France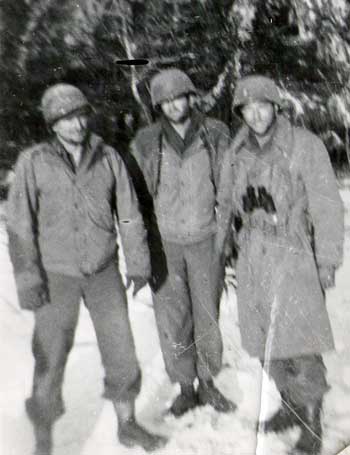 Capt. Joseph Brigandi far right, other 2 soldeirs unidentified - Ardennes Belgium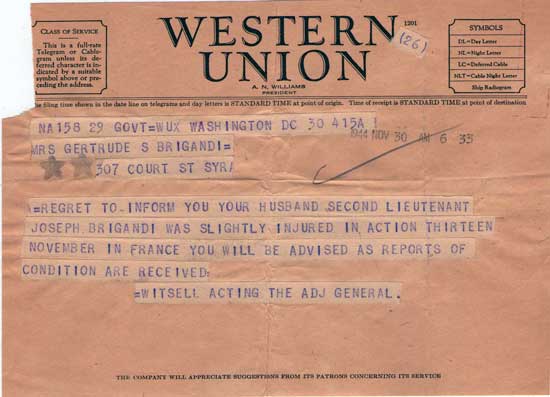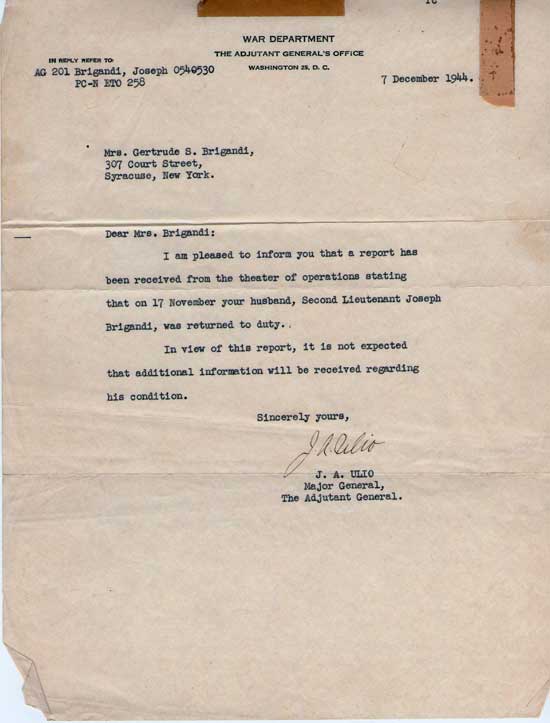 Thanks to Megan Moloney, Capt. Brigandi's granddaughter for these pictures and information about her grandfather.