134th Infantry Regiment Website

"All Hell Can't Stop Us"

T/5 Peter H Wenzel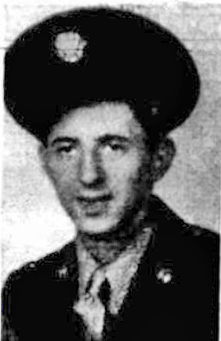 60th Engineers Combat Battalion, Company B
Peter Henry Wenzel, son of Peter and Mary (Kidney) Wenzel, was born in Ulster, New York December 8, 1923. He registered for the draft June 30, 1942 and enlisted in the Army on February 8, 1943 at Albany, New York. He served in Company B, 60th Engineers Combat Battalion. The night of October 10, 1944, the 60th Engineer Combat Battalion, 35th Infantry Division, was laying down a mine field near Ajoncourt, about 18 miles northeast of Nancy, France. Trucks carrying the mines were parked along the Moselle River just south of town. At about 11 PM that night one of the trucks exploded, causing another truck and nearby stacks of mines and other ammunition to also explode. Thirty-three men died in that explosion and fourteen were wounded. T/5 Peter H Wenzel was one of the men who was killed in that explosion, but his remains were never recovered. He is memorialized on the Tablets of the Missing, Lorraine American Cemetery, St Avold, France.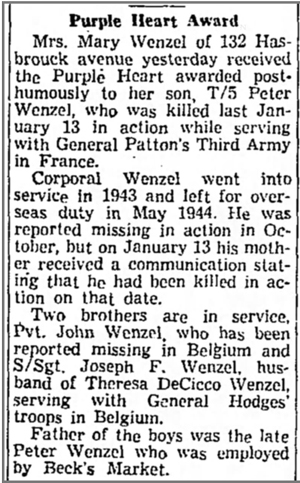 The Kingston Daily Freeman, Kingston, New York, March 15, 1945