134th Infantry Regiment Website

"All Hell Can't Stop Us"

Pvt Joseph P Twomey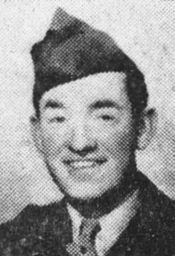 60th Engineers Combat Battalion, Company B
Joseph Paul Twomey, son of Patrick and Hannah (Reardon) Twomey, was born January 25, 1910 in Boston, Massachusetts. He married Eileen Abigail Connors in April 1938. He registered for the draft October 16, 1940 and was inducted into the Army on August 24, 1943. Prior to entering service, he worked as a clerk for the City of Boston, Highway Division.
Pvt Joseph P Twomey served in Company B, 60th Engineer Combat Battalion. The night of October 10, 1944, they were laying down a mine field near Ajoncourt, about 18 miles northeast of Nancy, France. Trucks carrying the mines were parked along the river just south of town. At about 11 PM that night one of the trucks exploded, causing another truck and nearby stacks of mines and other ammunition to also explode. Pvt Twomey was one of 33 men who died in that explosion. He is buried at Lorraine American Cemetery, Saint-Avold, France.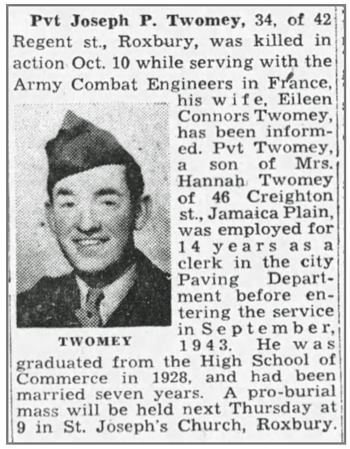 The Boston Globe, Boston, Massachusetts, November 4, 1944