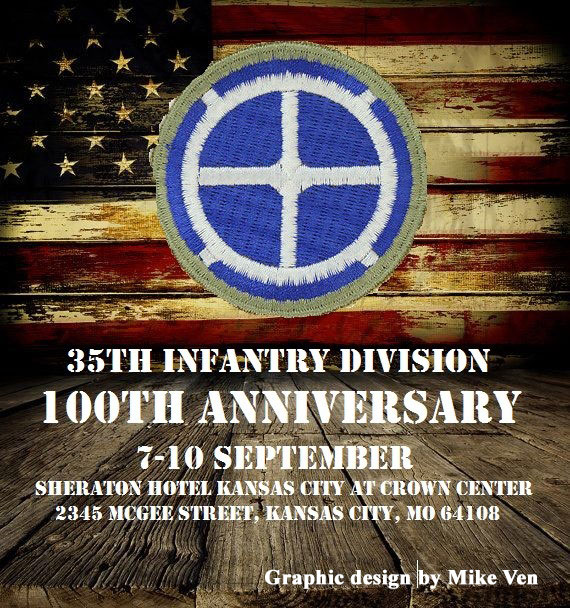 2017 - 35th Infantry Division Annual Reunion
AGENDA

Thursday, September 7, 2017
Registration

3:00 - 4:30 pm

Nominating and Executive Committee Meeting (Committee Members)
4:30 - 6:00 pm
Hall of Fame Committee Meeting (Committee Members)
6:00 - 10:00 pm
Hospitality room open for social
Friday, September 8, 2017
8:30 - 0945 am
Annual Meeting
10:15 - 4:30 pm
35th Division Museum, Topeka (lunch hosted by museum board)
6:00 - 9:

00 pm

Presidents Reception and remembering our heroes
Saturday, September 9, 2017
8:00 - 9:30 am
Presentation: The 35th Division in WWI

9:30 am - 1:00 pm

WWI Museum (with lunch on your own in cafeteria -

shuttle transportation to museum)

2:00 - 4:00 pm
Hall of Fame Ceremony & Reception
6:00 - 6:30 pm
Social -Cash Bar
6:30- 8:00 pm
Banquet - Honoring our Fallen, Awards & Program
Sunday, September 10, 2017
9:00 - 10:00 am
Religious Services
Hotel deadline for $99 room rate is August 8, 2017 - Conference registration deadline is August 25, 2017
If you call, ensure you inform them you are with the 35th Association. If for some reason they will not give you the contract price of $99 plus tax contact COL (Ret) Robert Bloomquist at bbloom843@aol.com or 785-234-2688. Please let him know if it was phone or website and who you talked to if you have that information.
INVITATION TO CELEBRATE THE 100TH YEAR OF THE 35TH DIVISION
I am honored to host the reunion and celebration of the 100th year of 35th Infantry Division. This is a wonderful way to honor those Veterans and families associated with the 35th Division while enjoying family, friends and local attractions. We are blessed to have generous sponsors help keep this a reasonable expense in such a great part of Kansas City.
The hotel is located in the Crossroads District, connected to the Crown Center Shops and a short stroll from Union Station and Liberty Memorial. It's just minutes from the Power and Light and Downtown business districts. With 85 acres of shops, restaurants and attractions just outside the door, it's one of the most convenient hotels for discovering the best of Kansas City. Crown Center is the Midwest's premier family destination, thanks in large part to our collection of Attractions & Theaters. * Two world-renowned family attractions, the SEA LIFE Kansas City Aquarium and LEGOLAND® Discovery Center. * Hallmark Cards sponsors the FREE Hallmark Visitors Center and Kaleidoscope, where children and their families create amazing art. * We're a hub for live theatre with the nationally recognized Coterie Theatre and Musical Theater Heritage, whose intimate settings bring alive the American Musical as never before! * During the winter, we've got the city's only public, outdoor ice skating rink in the Crown Center Ice Terrace. In addition to what you'll find within our complex, the rest of the Crown Center District offers even more to see and do, including Union Station, the National World War I Museum at Liberty Memorial, and The Money Museum at the Federal Reserve Bank of Kansas City. There's something here for the whole family!
Business events on Thursday will not commence until the afternoon, to allow maximum travel time for those participating. The Nominating and Executive Committee Meeting begins at 3PM and Hall of Fame Committee Meeting at 4:30PM. A hospitality room with complimentary beverages and food is offered that evening.
Our Annual Meeting will start at 8AM Friday followed by an opportunity to visit the 35th Infantry Division/Kansas National Guard museum in Topeka. The Museum Board of Directors are generous hosts and are providing lunch for the group. I hope to see you Friday evening at the Presidents Reception, a casual event with finger foods and an opportunity for our Veterans to speak about their personal, deployment, and wartime experiences.
Saturday will be the keystone day of our conference, starting with a presentation of the 35th in WWI followed by a trip to the WWI Museum. Saturday afternoon will be our Hall of Fame Ceremony and Reception, hosted by Ben Weber. Saturday evening will be a formal Military Dining Out, starting with a memorial service to honor our fallen. We will also recognize a number of the 35th Division's most outstanding young leaders.
As we celebrate our 100th, I want to recognize the generosity of our many members and friends of the 35th Division. These "Honorary Attendees" and "Conference Sponsors" make this event possible. Your support is critical and greatly appreciated; we could not do this without you.
Thank you for attending and participating, I look forward to enjoying a great conference with you!
Robert E. Windham
BG (Ret), US Army
President, 35
th
Div Association