134th Infantry Regiment Website

"All Hell Can't Stop Us"
S/Sgt Alvin L. Lampe
Company C - 134th Infantry Regiment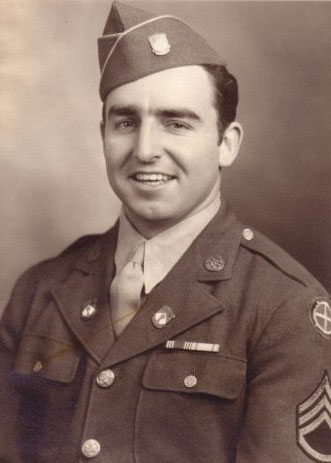 Alvin Leroy Lampe was born February 14, 1921 in Franklyn County, Nebraska in the little town of Campbell. He was the first born of Arnold Daniel Lampe and Margarette Elizabette Brouillette. Eleven children were born to this union.

In the mid 1920's, the family moved to Beatrice Nebraska. During his junior year in high school, he signed up with the Army National Guard, and was assigned to Company C. As money was not in abundance, the older boys helped support the family. Shortly after graduation in 1940, they were activated and sent to Camp Robinson at Little Rock, Arkansas. After the attack on Pearl Harbor he was sent to California to help secure the coast. (Brothers George and Carl served in the Navy during this war also.)

Dad had met the woman who would be his future wife (Virginia Wilkinson) before going to California. In his letters to her, which start in January 1942, the headings read; Fort Ord, California; Salinas Army Air Base, Salinas California; Los Angeles, California; Camp Rucker, Alabama; Nashville, Tennessee; Camp Butner, North Carolina; New York, New York; The High Seas; England; France.

Alvin arrived in France July 5th. He was a S/Sgt. in the First Battalion, Company C under Alford C. Boatsman. July 14 the word came from Division Headquarters that the Regiment was to attack in the direction of St. Lo at 5:15 a.m.the next day. According to the May-June, 1999 35 Divsionnaire Newsletter article Beginning of an Epic, "One of Colonel Miltonberger's (the Regiment Commander) first steps was to call in all the Technical Sergeants of the First and Second Battalions and explain to them the job that had to be done and importance of each unit's carrying out its own responsibility. Most of the noncommissioned officer had already spent some time as front line observers during the preceding week". Officers were told that the Regiment's first objective was to seize and hold Hill No. 122, which is north of St. Lo and overlooks the city.
July 15, 1944 during the Battle of St. Lo, he was wounded when hit by shrapnel. The men on either side of him lost their lives. Alvin's left elbow was shot away. He had shrapnel wounds over a large part of his body. He remembered the difficulty pulling himself up out of one of the sunken roads with his right hand and then trying to work his way to the aid station. He remembered a buddy passing him who was on his way to the front. The buddy asked Alvin how it was at the front. Alvin replied, "Its Hell!" Alvin apparently then passed out. It was not until many years later that Alvin and this man met again. The buddy told Alvin that after he had ask that question and moved on, he turned back to look at Alvin. He said Alvin was covered with blood and laying on the ground and he thought Alvin had died. Medics attended to Alvin and he was patched up enough to get him back to England.

Alvin returned to the States, arrived at Camp Edwards, Massachusetts October 26th and then was sent to Winter General Hospital in Topeka, Kansas where he arrived on October 31, 1944. He was wounded on the first day of the battle of St Lo, so he saw very little else of the war except from inside a hospital and letters from buddies. His mother (Margarette Brouillette Lampe) sent him clippings from the Beatrice Sun, keeping him posted of those he served with. He remained very loyal to his 35 Div, 134th Inf, Company C all of his life.
- - Biography of S/Sgt Alvin L Lampe written by his daughter, Lynn Lampe Salsbury

These photos are from the collection of S/Sgt Alvin L Lampe. Click on an image below to open in high resolution
| | | | |
| --- | --- | --- | --- |
| | | | |
| Alvin L. Lampe, California | Brothers Carl and Alvin Lampe | Virginia and Alvin Lampe wedding, May 5, 1945 | Brothers George and Alvin Lampe |
| | | | |
| unknown | 1990 Reunion, left to right: Carl R. Schidler, William J.H. (Herman) Genrich, Alvin L. Lampe, Raymond Rehm | unknown | unknown |
| | | | |
| unknown | S/Sgt Virgil O. West | unknown | unknown |
| | | | |
| unknown | unknown | unknown | unknown |
| | | | |
| unknown | unknown | unknown | unknown |
| | | | |
| Guards Start Toward Camp, January 1, 1941 Nebraska newspaper article documenting movement of the 134th Infantry Regiment to Camp Joseph T. Robinson, Arkansas | Friends Meet In Hospital, Beatrice Nebraska newspaper clipping, date unknown, Raymond Glasgow, John (Dean) Liedtke, Virgil O. West, Thomas D. Gerdes, Alvin L. Lampe, Herbert D. Schidler | unknown | unknown |
| | | | |
| unknown | unknown | unknown | unknown |
| | | | |
| unknown | unknown | unknown | unknown |
| | | | |
| unknown | unknown | unknown | unknown |
| | | | |
| unknown | unknown | unknown | unknown |
| | | | |
| unknown | unknown | unknown | Post Card - Blandford, England |
| | | | |
| Post Card - Blandford, England | Post Card - Blandford, England | | |
War Time Letters by Alvin and Virginia Lampe - These letters tell the story of his journey, the every day life of a soldier writing to his girl at home, his various moves for training, the trip to England and into France. Then from the hospital in England and his return to Camp Edwards, Mass and then Winter General Hospital in Topeka, until he is discharged and they marry May 5, 1945.
THE HISTORY OF COMPANY C, 134TH INFANTRY, 1875 - 1985 This is a history of Company C, 134th Infantry Regiment by S/Sgt Alvin L. Lampe and updated by Jack W. Van Allen, Lt. Col., Infantry. In addition to the history of Company C, it also includes personnel rosters from World War I, World War II, and 1957 and information about Company C Reunions from the 1930's through 1982.

Thanks to Lynn Lampe Salsbury, daughter of S/Sgt Alvin L. Lampe, for his biography, permission to post his wartime letters and the photos from her father's collection If you recognize any of the soldiers in these pictures please contact Lynn Lampe Salsbury.